The Mojácar area is the warmest and sunniest spot in Europe, located in Almeria province of south eastern Spain.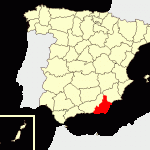 Almeria province is officially recognised as the sunniest spot in Europe and has a fantastic all year round climate, our average winter temperature hovering around 18ºC and summer temperature around 33ºC.
It's a warm yet arid climate, meaning it's rarely humid and almost always a fresh heat. We get some 3000 hours of sun a year (that's well over double that of London!)
Europe's driest area is Tabernas desert (the only desert in Europe) which is just a few kilometres up the road from us, forming part of the Cabo de Gata-Níjar Natural Park. The arid landscape and climate that characterizes part of the province have made it an ideal setting for Western films, especially during the 1960s. Because of the demand for these locations, quite a number of Western towns were built near the Desert of Tabernas. Films such as A Fistful of Dollars, For a Few Dollars More, and The Good, The Bad, and The Ugly were shot here. Years later the film of 800 Bullets was filmed in the same place. Large sections of Lawrence of Arabia and Patton were shot there as well, and in 2013 Ridley Scott shot his masterpiece "Exodus" here.
The province escaped the mass building that so much of Spain underwent in the last few decades, and due to local laws most buildings along the coast are under two storeys high.
This has helped to protect the local character, and the locals are a fun loving people who are always up for a laugh!
Have a look at our visit to the 2014 Semana Santa easter procession in our nearby town to see a good example of how local traditions are kept up with gusto.
Modern infrastructure
That doesn't mean the area is in anyway substandard. Our local hospital, Huercal Overa, was recently came second in a government competition to find tourists most admired hospital installation. We have excellent transport links both to the rest of Andalusia and the rest of Spain and Europe.
Our ports are first class, both for traffic to Africa and fishing, and the area supports an important local fishing industry.
We are close to three major international airports with easy access from the UK (Almeria, Murcia – San Javier and Alicante airports) and an airport shuttle to Almeria airport.