Bicycles can now be rented from Camping Los Gallardos thanks to our new bike rental service.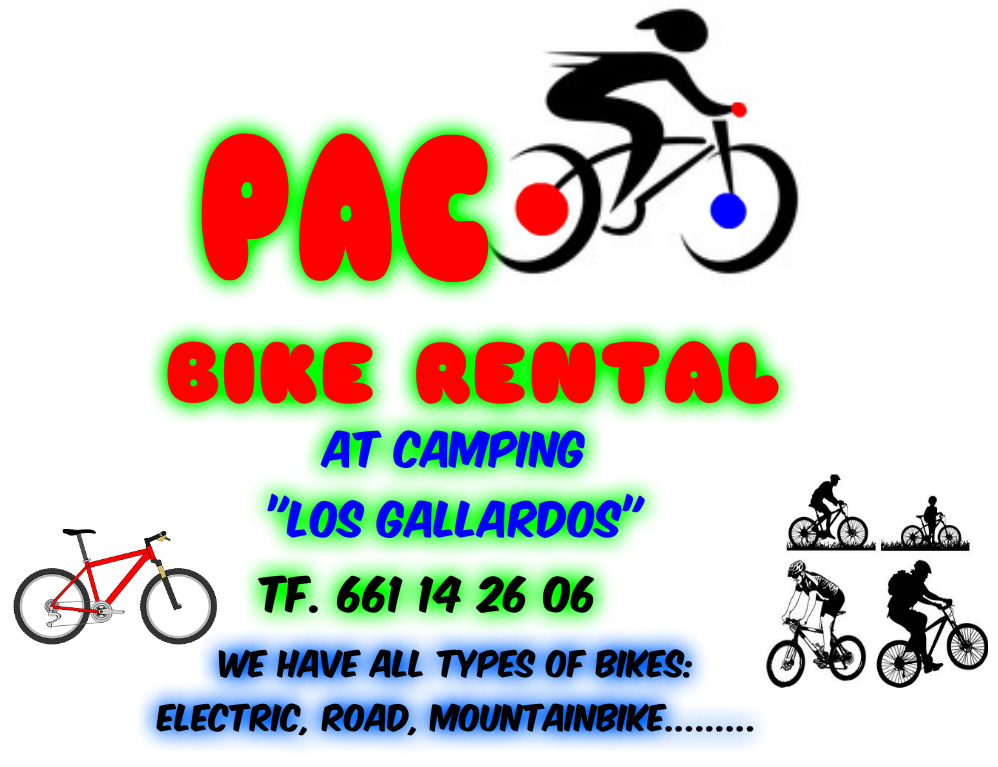 Camping Los Gallardos has signed an agreement with "Paco's bike rentals" which allows our guests to choose from a range of road or mountain, aluminium or electric bikes here at the campsite.
Please note that bicycles can be delivered to the surrounding area so if you are on holiday in Los Gallardos or Antas, please feel free to get in touch and Paco will bring the bike to your door.
Paco is also very knowledgeable about the area, and will happily suggest different routes for you to explore, based on your level of fitness and desired length of ride.
Call Paco on 661 14 26 06 or pop into the Campsite British Supermarket to see the range of bikes on offer.
Rental prices are as follows:
    BICIS ALUMINIO / ALUMINIUM BIKES
1 DIA / DAY                                   10  EUROS
2 DIAS / DAYS                              18  EUROS
3 DIAS / DAYS                              25  EUROS
1 SEMANA / WEEK                     50  EUROS
2 SEMANAS / WEEKS                80  EUROS
3 SEMANAS / WEEKS              110  EUROS
1 MES / MONTH                        140  EUROS
    BICIS ELECTRICAS / ELECTRIC BIKES
    BICIS CARBONO / CARBON FIBER
1 DIA / DAY                                   20  EUROS
2 DIAS / DAYS                              35  EUROS
3 DIAS / DAYS                              50  EUROS
1 SEMANA / WEEK                    100  EUROS
2 SEMANAS / WEEKS               150  EUROS
3 SEMANAS / WEEKS               200  EUROS
1 MES / MONTH                         250  EUROS