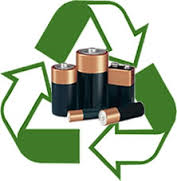 Camping Los Gallardos is delighted to announce that they now have a battery recycling point onsite!
Located at the entrance to the camp shop, the battery recycling point is a drop off box for your empty batteries.
Our local supplier replaces the battery box on a regular basis, thus ensuring that these polluting empty batteries can be recycled without polluting the local environment.
So when you change your batteries, put them safely to one side and drop them into the box next time you visit the shop.
And don't forget that the campsite shop stocks a full range of batteries: from AAA to DD, and many of the "odd sizes" such as camera flashes or watch size.
We also stock the most popular ranges of rechargeable batteries, as well as spare rechargers and a full range of torches.