Steve & Jing D'Albertanson have entered the 2014 Virgin London Marathon as TEAM MIRAFLORES to raise money for the "Calvert Trust".
The Calvert Trust operates outdoor activity centres for people of all ages, with all kinds of disabilities, situated in Exmoor, the Lake District and Kielder (Northumberland), the latter centre also having a respite care centre for over 18s.
The Centres are all in or near National Parks, the activities are challenging, such as sailing, zipwire, horseriding, abseiling, or even paragliding in wheelchairs!
Steve is well known as one of the smiling faces behind the bar at Miraflores at Camping Los Gallardos, and his wife Jing is a well known local nail beauty expert.
The Virgin London Marathon is one of the great British sporting events, combining elite athletics, mass participation and record-breaking fundraising in one race. The course is a gruelling 26 miles 385 yards long, passing through the streets of London from Blackheath to the famous finish line at The Mall.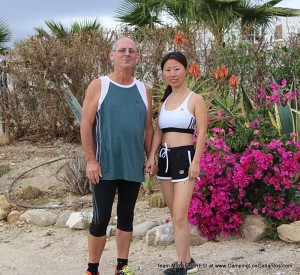 You can support TEAM MIRAFLORES in this worthy event by promising to donate via Virgin Money fundraising online here.
Camping Los Gallardos is helping to sponsor this event by donating the sportswear and some of the equipment necessary to propel Steve and Jing the 26 miles of the marathon!