Walking Football 7th Press release
As soon as both teams had finished their warm up exercises, I removed my ear defenders. I can`t stand the sound of creaking bones and snapping tendons.
The colostomy bowser I mentioned last week was already in place and is proving very popular with players and with spectators. The sloshing sounds emanating from some of the players as they moved around the pitch, especially during the second half, were becoming a distraction so we are very grateful to the person who donated this piece of equipment. Not only does he, or she, wish to remain anonymous they don`t want anyone to know their identity or who they are.
Not only that but it generates a fair amount of heat which is very welcome on a chill Sunday morning.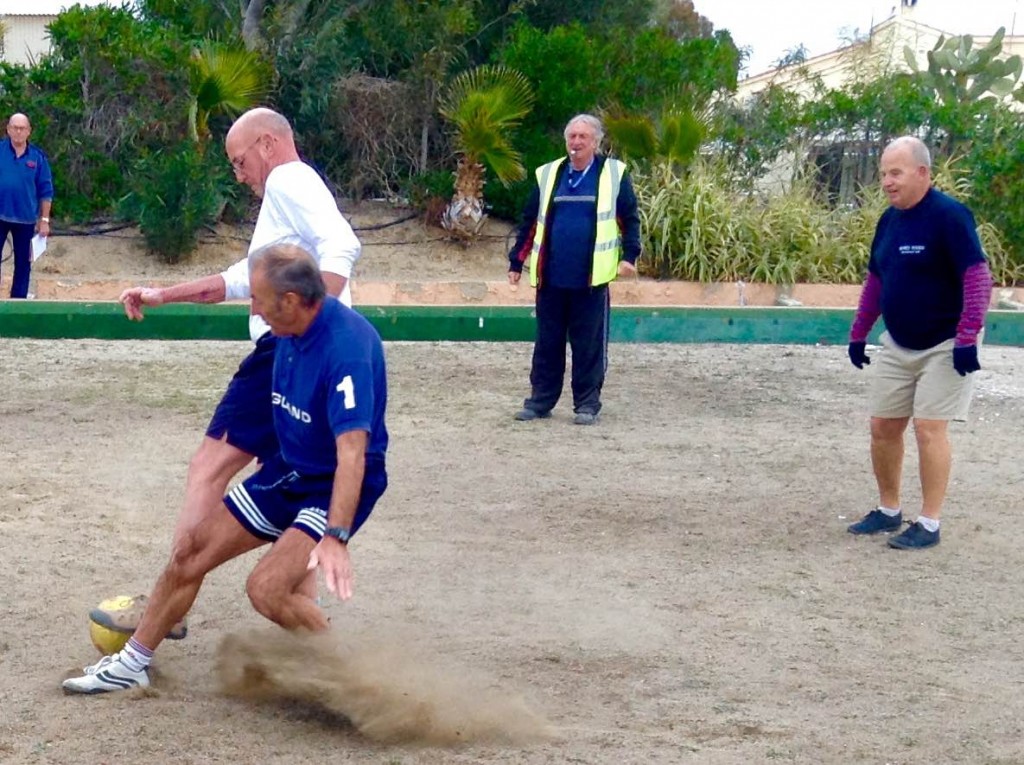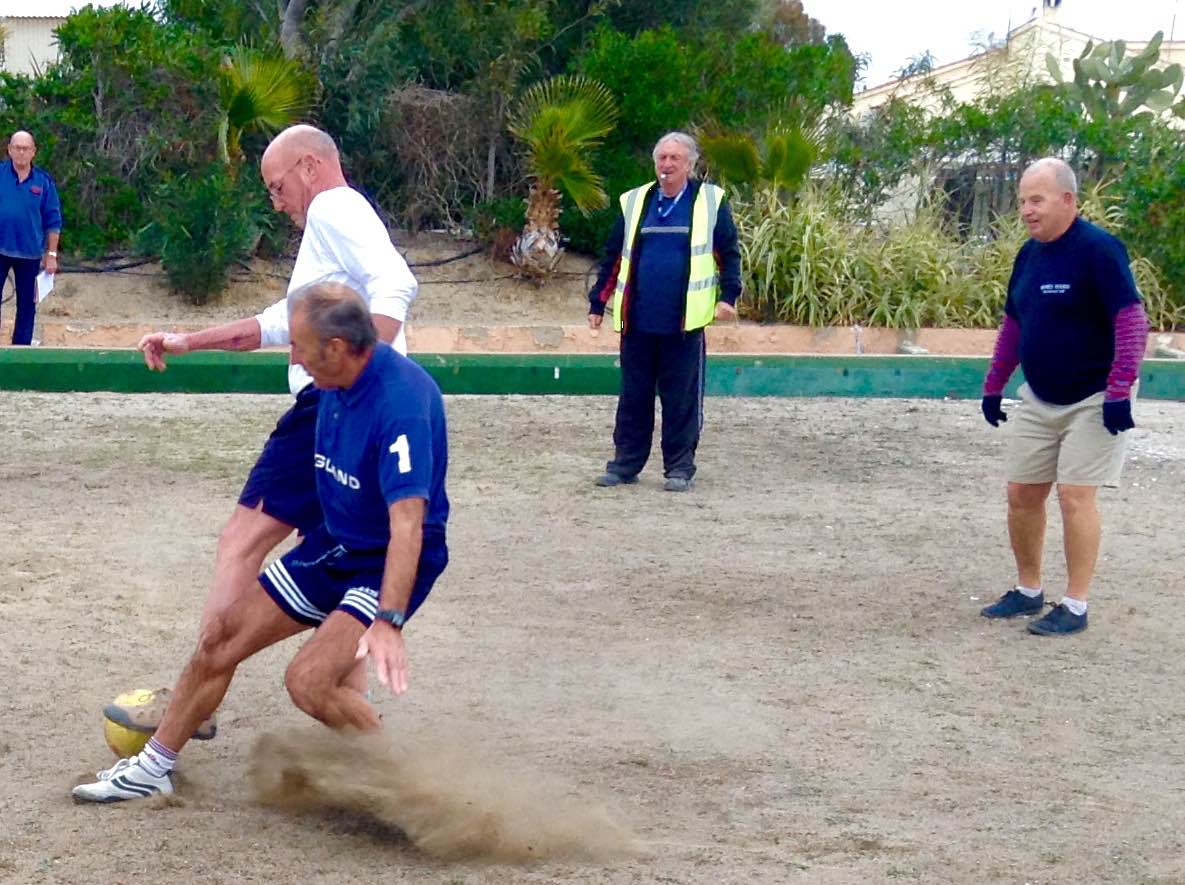 It was obvious even to my untrained eye that the huge amount of maintenance lavished on the pitch during the week must have taken the ground staff at least ten minutes to complete.
Letting the tension build at long last the Mighty Vicko, ref extraordinaire, blew his whistle and the game was underway. Within seconds the Coffin Dodgers goal was under fierce attack. This almost constant onslaught paid off when Rob Longstride scored a beautiful goal. Hurrah! As usual Fiery Fred disputed the goal, quoting some rule about not being allowed to score from a free kick. After a brief conference the Mighty Vicko decided in his own democratic way that you play the game his way or it`s the highway.
A goal down, the Coffin Dodgers upped their game and several times came very close to scoring but Lady Luck did not smile on them. Aaaaah!
Vicko was forced to blow his whistle when Lottery Len, so called because he keeps rolling over – geddit? – made a spirited run down the pitch. "I had to stop you," said Vicko to Len, "You were walking so fast I was scared stiff you were going to hurt yourself!" When a ref cares it shows.
Taking full advantage of this display of genuine emotion and while the Coffin Dodgers congratulated Vicko on his tenderness, the Seizure Stoppers gained control of the ball yet again and with opposing players bouncing off him as he thundered down the pitch, Big John slipped one in. The crowd went wild. Hooray! Hurrah!
Courageously the Coffin Dodgers went on the attack once more but their attempts to score were all to no avail due to clever defensive play by the Seizure Stoppers. I say clever defensive play but in actual fact they all stood in a line across the goal so immovable that even a bulldozer would flinch. At one point they looked certain to score but the move was magnificently thwarted by Peter Dem Bones Kelly. Both sides agreed it was the best bit of thwarting they had seen for a long time.
A little before half-time Vicko was again forced to make another democratic decision over the No ball over waist height rule. "We go by my waist height. None of your Simon Cowell waistlines here! So shut your gobs or you`re off!" His poetic way with words coupled with his distinctive lilting Liverpool accent are a joy to us all.
At half time Hurricane Helen, the Camping Los Gallardos answer to Nell Gwynne, appeared with plates of refreshing orange segments. As some of the players were not wearing their false teeth the oranges took a lot of sucking and the noise was incredible. Yet again I was grateful for my ear defenders.
Oranges sucked dry both teams were ready to start again. Fred De Merc replaced Peter Dem Bones Kelly and the second half began. Mighty Vicko blew his whistle and was immediately forced to blow it again as the ball had been passed back instead of forward. "You have to kick the ball forward, it must go over the centre line" said Vicko to the unsuspecting player who explained that he had indeed kicked it forward but as the line was about 1 meter wide at that point he should be given some leeway.
Grudgingly Mighty Vicko agreed and play continued. Fully refreshed the Coffin Dodgers made numerous attacks on the Seizure Stoppers goal. Gosh it was exciting.
Then, tragedy! A heavily struck below the waist ball, struck heavily below the waist of one of the players. Down he went rolling around clutching his hands between his legs, muttering what sounded to me like, "OOOOMAHDAZZAGLUMPHNADAWHADANADA!" Our brave first aid lady rushed to his side. Within seconds she had his shorts down and with deft fingers began massaging the affected area. Very gently she put everything back in place and pulled his shorts up. "Is that better dear?" She enquired. "Yes, I´m very grateful" he said, "But I still think my thumb is broken."
Brave chap that he is he played on.
With renewed vigour Near Miss Chris of the Seizure Stoppers scored their 3rd goal. He was cock-a-hoop and tears of joy ran down his face. He was even more overjoyed when the Mighty Vicko awarded him a House Point. Hurrah!!
Were the Coffin Dodgers finished? Of course not! They played magnificently and in the end their efforts were well rewarded when Fiery Fred scored their only goal. Hurrah! And another Hurrah!
That was how it ended with 3 – Nil win to the Seizure Stoppers. The huge crowd of 4 spectators went home happy and, in their usual sporting way, both teams adjourned to the bar for an analysis of the game. Hurrah! Hurrah!
I have it on good authority that our Dangerous Old Men Of Steel may be challenged by a team from Huercal Overa. Until I know their proper name I have christened them the Losers. Watch this space for more information.
By Bill White.