Four local business leaders from Bolton in the UK are about to take the plunge in a challenge that will test their endurance, skill, and sanity, to the extreme, by rowing across the Atlantic ocean – but before that, they popped by Camping Los Gallardos to enjoy a couple of days relaxing sun in Mojácar!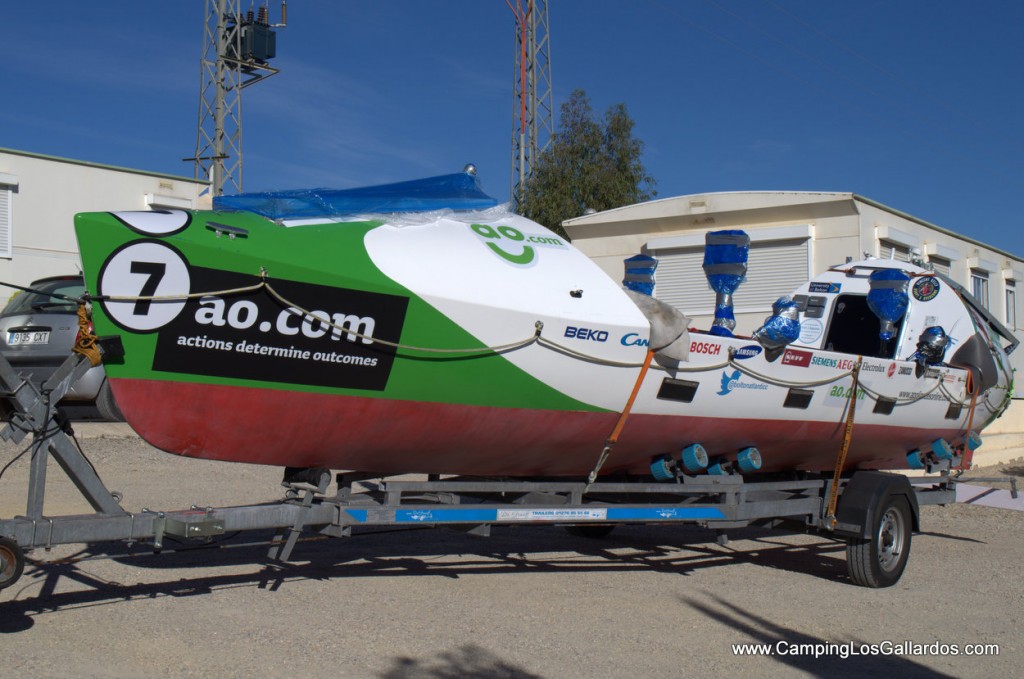 With only each other for company (and the majority having never rowed professionally) they will take on the 2013 Talisker Atlantic Rowing Challenge, in a 3,000 mile race across the Atlantic Ocean.
Apart from the common interest of extreme endurance testing, these gents share a passion for their town of Bolton, and aim to bring fellow businesses, individuals and groups together for what wi
ll be a life-changing fundraising event. Find out more at www.boltonatlanticchallenge.co.uk
 Mark Brocklehurst, Nick Griffiths, Finn Christo, Matt Nuttal and Matt Tomkin will be taking it in turns over seven weeks to cross the Atlantic under no other power than that created by their own rowing efforts. Sadly, original organiser Vincent James Kelly died late last year in an air crash, but in his honour his photo will be put (in a waterproof case!) above the rowers to cheer them on as they work against the Atlantic rollers.
 Matt Tomkin, aged 27, said: "I think the challenge of rowing 3,000 miles in a 29ft boat with waves the size of a house will be one of the best achievements I will have accomplished. I just hope I don't get eaten by a shark while cleaning the hull of the boat!"
 Support team Peter & Fred Miles are delivering the boat, called the "Appliances Online" all the way from the UK to the Canary Islands. They popped by Camping Los Gallardos and we caught up with them as they relaxed at Miraflores restaurant under the warm November sunshine to find out what it's all about.
The Junior Mentoring Project can continue to offer vital support to some of the most vulnerable children in Bolton. There is currently a waiting list of nearly 200 kids who the mentoring programme could quite literally have a life-changing effect on, so we wanted to take on an extreme challenge that would raise both awareness and the funds needed to allow this as well as do away with the long waiting list for much needed support
 The Race
 The 2013 Atlantic Ocean Rowing Race will start in the Spanish port of San Sebastian de la Gomera in the Canary Islands and follow a west-bound route across the mid-Atlantic to Antigua.
 The race is 2,549 nautical miles (2,933 regular miles). Though when bad weather and adverse conditions are factored in, most teams will row well over 3,000 miles during their Atlantic crossing.
 The race is unassisted which means that once underway, the crew will have no assistance from the outside world.  All equipment, food and supplies for the journey will be prepared carefully beforehand, and any assistance from passing boats will result in disqualification from the race.
 Not all bad news – Race Support vessels will follow the boats to provide essential safety back up just in case.
 For more information please visit Talisker Atlantic Campaign (www.atlanticcampaigns.com) or see the teams position LIVE online at www.marinetraffic.com (zoom in on the Canary Islands and look for them!).
 The Boats
 The boats themselves are self-righting in case of a capsize and robust enough to cope with many weeks out at sea in extreme conditions. They are kitted out with the very latest electronic systems so that boats can be tracked hour by hour, and can communicate with land and shipping while out at sea, using a variety of methods. Electrical power is generated via solar panels, making the boats exceptionally environmentally friendly while emergency drinking water is carried in the form of a required amount of ballast, stored low down in the boats.
 Conditions
 Conditions on board will be stark and the crew can expect to experience some tough times that will test them to their limits. There is no room to walk around freely and the motion of the boat is constant. Rowers will undoubtedly encounter nature at her best and worst and during their adventure will become all too familiar with extreme temperatures, painful salt sores and blisters, powerful storms, 30 foot waves, wildlife (not all of which is friendly!) and probably the biggest danger of all – shipping.
 That's right folks – no home comforts, no bathroom facilities, limited cooking ability and a diet of high calorie expedition foods and snacks. They will drink desalinated water and sleep in a space smaller than a single bed. Considering they'll only sleep for 90 minutes at a time, we don't imagine they'll be too inconvenienced!